How Can Your Business Thrive Despite Flood Damage in Shreveport?
11/28/2021 (Permalink)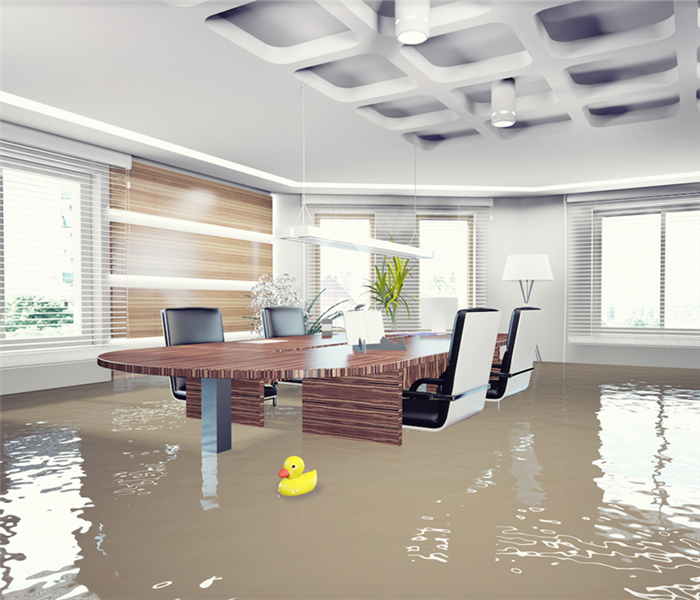 Creating an ERP can certainly help when your business experiences flood damage. Contact our certified technicians to discuss/mitigate a situation.
Plan rather than panic when partnering with SERVPRO for commercial flood restoration in Shreveport
Flood damage in Shreveport commercial buildings can link to extreme weather patterns, waterways flowing over capacity, burst pipes, or cleaning up after a sewer backup, among other crises. Regardless of the cause, commercial flooding can grind your operations to a halt. Obtaining quick, competent water damage remediation is necessary to prevent progressive deterioration of building materials and contents. Doing everything possible to avoid or limit your business from shutting down during restoration is vital to the enterprise's future -- between 40 and 50 percent of companies forced into temporary closures to remedy flooding or other disasters fail to reopen.
How Can Shreveport Businesses Prepare for a Flooding Disaster?
SERVPRO suggests to commercial clients that adequate planning for a broad range of challenges can separate successful companies from those that struggle. Join the firms that flourish despite short term setbacks from flood damage by:
Checking supply and waste lines and connections to prevent flooding from burst pipes or sewer backup
Cleaning up gutters and inspecting/maintaining roofs and drainage systems, avoiding ceiling leaks and lower level flooding from building perimeter saturation after storms
Permanently moving inventory, documents, and equipment above known floodlines
Preparing storage areas either on or off-site to which contents at risk of flood damage can be transported during a flood event
Why Create a SERVPRO Emergency READY Profile (ERP)?
Another option for Shreveport businesses looking to minimize flooding impacts is to develop an Emergency READY Profile (ERP) with the SERVPRO team. After an on-site assessment by an experienced project manager, SERVPRO distills the information gleaned into a concise digital response plan, including blueprints of the space, utility shut-off locations, placement of essential equipment, and more. We suggest adaptations you can make to protect exposed structures and contents and invite you to share and update more details through our mobile app.
The flood mitigation and remediation experts at SERVPRO of South Shreveport will get you back in business. Call (318) 865-4655 round the clock to schedule an assessment and initiate emergency water damage services.