Storing Your Undamaged Inventory Facilitates Commercial Fire Damage Restoration in Shreveport
9/15/2021 (Permalink)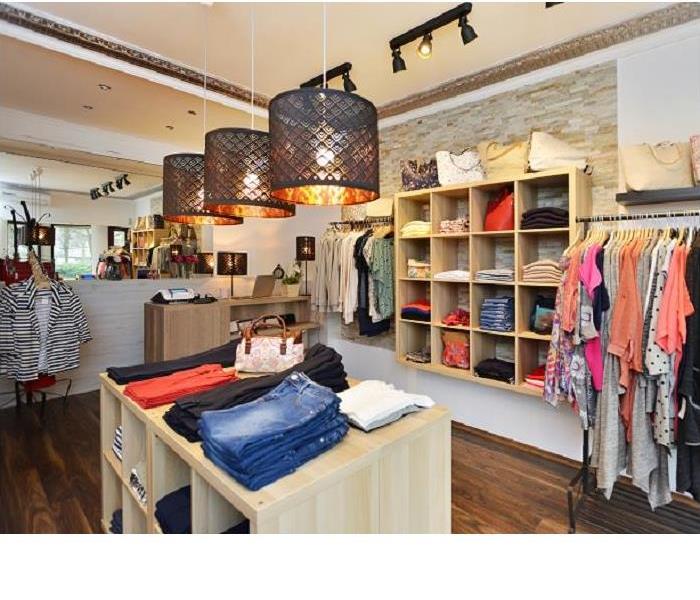 Every day you store is closed, customers visit elsewhere. SERVPRO is always on call to quickly restore your commercial fire damage.
Let us Handle it All, Including Your Shreveport inventory From Fire Damage

Getting your Shreveport business back on track after a disaster takes time. It also uses up resources that you might not have readily available. Every day your business sits unopened is another day of lost profits and disappointed customers. Instead of waiting to see your selection, many shoppers decide to visit other places and make their purchases elsewhere. SERVPRO can help you minimize such related damages through professional mitigation.
We help all sizes and types of businesses in Shreveport survive commercial fire damage and its effects. We use tried and tested restoration methods that follow the protocols accepted by the Institute of Inspection, Cleaning, and Restoration Certification (IICRC). The damage that occurred in your store during a fire involved more than the flames. The smoke and heat also cause extensive damage.
We also address the inundation of water sprayed into your store. Because a significant portion of this turns into steam, we bring in air movers and dehumidifiers. Air scrubbers also play a powerful role in extracting moisture and restoring dry conditions in both structure and contents. These machines require more than just their own physical blueprint. The hoses, electrical cords, and exhaust apparatus also take up space. We need adequate space to work, clean your items, and move things around.
Undamaged Items After Fire Damage
Any of your store's furnishings or inventory that survived without succumbing to smoke or fire damage can get in the way during our work. This not only makes it more difficult to do our job swiftly, but it also places these items at risk of eventually becoming damaged. We want to prevent such damage, so we provide warehouse space to our customers where it is possible to safely store items.
We tag larger items to provide an inclusive inventorying of such items. This information helps us keep groupings of furniture together and match undamaged pieces to those we needed to restore. After cleaning, drying, and other restoration activities, we can help your employees by returning furniture pieces and other content items back in your store. We try to get things situated in the same spot as before, so working with your knowledgeable employees helps immensely.
SERVPRO of South Shreveport is ready to help your business by making it all "Like it never even happened." Our building services department helps us achieve this goal wherever needed. Call us at (318) 865-4655 for IICRC-certified smoke and fire damage restoration specialists.