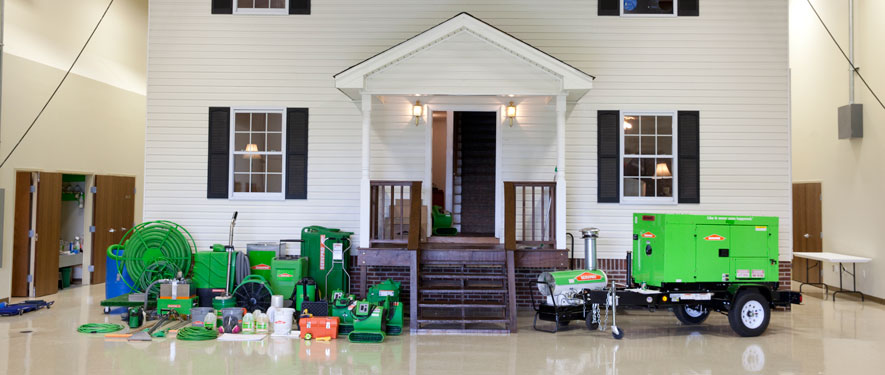 Advanced Technology and Techniques
Why Shreveport Area Properties Count on SERVPRO for Remediation Services
A picture is better than a thousand words, and a great illustration of that old saw is our SERVPRO training facility in Gallatin, TN. The beautiful white-framed house is not real, not really. This structure is used for the training of staff, owners, and technicians in the latest and greatest methods and equipment. Our clean up and restoration industry is continually evolving with more advanced gear, cleaning products, ancillary specially formulated agents for target-specific usage--like fungicides, biocides, and deodorizing beads, to name a few.
So, when we dispatch a crew to any "catastrophic" event--whether a hurricane-induced lost roof damaging an interior with high volumes of rainwater or a split washing machine hose in the utility closet, we have the means to restore order. Shreveport homeowners are our best sources of advertisement, we meet and beat their expectations, and under budget and on-time.
Our warehouse and Green Fleet are stocked at all times, ready to respond with cutting-edge equipment operated by very skillful and talented technicians. From our diesel-powered generators that can supply power for air movers, dehumidifiers, ozone machines, hydroxyl generators, and a host of water extraction devices, we can work on-site. But, we can also offer the latest in content management and transport items to our facility for cleaning and restoration. We can scope and inspect with the latest in scientific moisture sensors and infrared camera imaging.
Moisture Detection and Measurement Equipment
Scientific drying principles rely upon specialized equipment to detect, measure, and monitor a property's moisture levels. Recent advances, like infrared cameras, can help us detect water through a wall, ceiling, or floor.
An infrared camera may be used to identify water location for thorough water removal.
Sensitive moisture detectors, hygrometers, and other meters measure the extent of moisture saturation
Water Extraction Equipment
Powerful extraction equipment speeds the drying process by removing the bulk of the water from your home or business.
Submersible and gas-powered pumps for continuous pumping of high-level water. 
Truck-mounted and portable extraction units perform efficient water removal.
Drying Equipment
Industrial strength air movers and dehumidifiers are needed to remove the remaining moisture from ceiling, walls, and floors of your home or business. Proper drying helps to prevent swelling and warping of floors, walls, and furniture.
High-speed air movers causes moisture to evaporate at a faster pace
Industrial grade dehumidifiers pull the water vapor from the air.
Odor Removal and Deodorization
Water and fire damage often causes powerful odors. The machines we use remove airborne contaminants and control the air quality during the restoration and cleanup process.
Air scrubbers
Thermal foggers and deodorization agents
Sanitizing Agents, Germicides, and Anti-Microbial Treatments
The use of OSHA-approved cleaning agents may be needed to clean and remove odors and/or contaminants on your property.
Deodorization products control odors from excessive moisture.
Disinfection products stop the growth of bacteria, fungi, mildew, and other harmful microorganisms.