Enlist Our Experts When Dealing With Flood Damage In Shreveport
8/21/2019 (Permalink)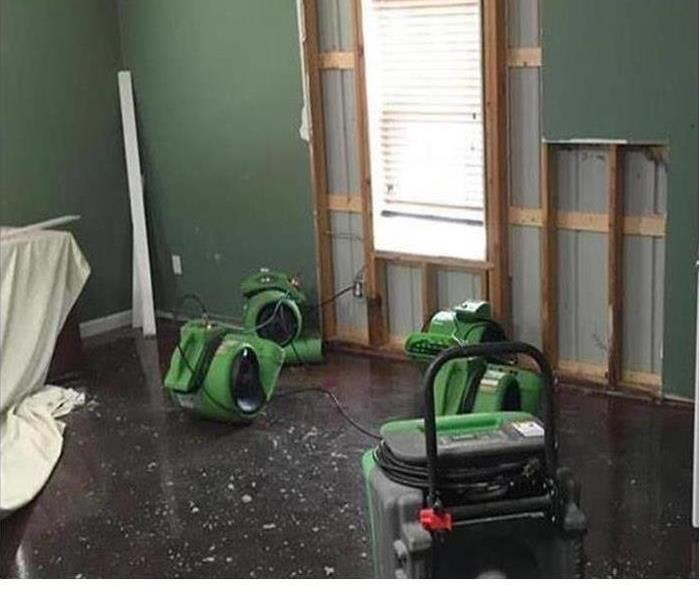 The flooding caused the floor to be covered in water and trim and sheetrock wall panels. We arrived with our state of the art equipment and began.
Shreveport Medical Offices are Also at Risk of Flood Damage
Shreveport seems to consistently be the target of flooding and water events, particularly in the past few years. It is tough for businesses to be prepared to deal with this eventuality, but proper disaster planning has become an integral part of forecasting and projecting for every business owner. Even non-retail outlets, such as doctors offices, need to pay close attention to how they would restore their business following a flood regardless of size. Imagine for a minute that your dental office, typically operating during traditional business hours and closed during the weekend, is suddenly filled with water and sludge, all the result of the rise of a nearby body of water.
Calling SERVPRO, a professional water restoration company is your best option if your Shreveport business suffers flood damage. Over the past years, we have seen floods big and small challenge our business community, and we partner with it to minimize your loss of time and resources. Like you, we realize that bouncing back quickly after a disaster is paramount to the viability of a business which is why we are available 24/7 to respond to your emergency as soon as you place a call to our office. Every minute you delay is one more minute for debris and bacteria to damage your office.
If you are wondering why you should call SERVPRO instead of enlisting friends and family to clean your space, the answer is quite simple. Floodwaters typically carry contamination and bacteria which can make themselves at home in your office without you realizing it. Our team of experts has equipment and techniques designed to identify problem areas and remediate the flood damage. This includes disinfecting with industry-grade solutions based on the chemical composition of each surface. The average consumer does not always have access or the training necessary to understand how to completely eradicate the unwanted organisms from your business, leaving it vulnerable to complications in the future.
SERVPRO of South Shreveport is an advocate for the quick restoration of businesses after disaster strikes. All you need to do is call (318) 865-4655 and let us take care of the rest. Our goal is to leave your office, "Like it never even happened."
See more about Shreveport.