Tackling Water Damage in Your Shreveport Property Should Not Have to Happen Alone
5/24/2019 (Permalink)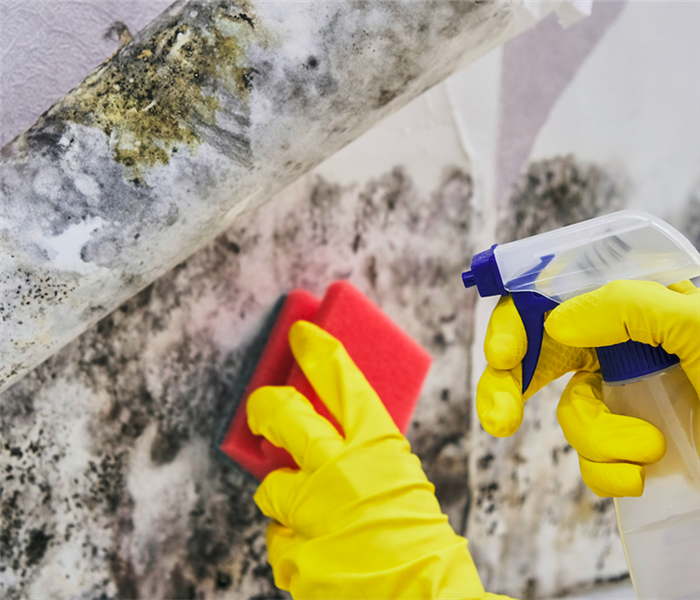 Mold growth is not an easy thing to clean up. Contact SERVPRO today for all your remediation needs and assistance.
Why You Might Need SERVPRO of South Shreveport To Handle Water Damage From a Leak
One of the most common causes of water damage that we see in local homes is damaged caused by a pipe or appliance leak. While leaking faucets are the most common and visible types of water leaks in a home, these should pose a minimal concern, as any leaking water can be collected and drained away. Leaks below cabinets, behind walls, and underneath large appliances can both be much harder to detect and may cause much more costly types of damage to your home. Here are a few reasons why you might need to call SERVPRO for a simple water leak.
Discoloration
One of the most visually apparent signs of water damage to a Shreveport home may be the discoloration of walls, floors, and ceilings. Many building and finishing materials found in local homes are not designed to accommodate significant volumes of water and may become permanently discolored when soaked by a leak. Although some of these problems can be resolved with a fresh coat of paint, many others require alternative approaches to refinishing and color change reversal. Our technicians are trained and experienced in the handling of all materials used to build local homes, and can leave yours looking "Like it never even happened."
Warping
Some materials may warp when exposed to water, especially when only one side of a surface gets wet (as may happen with a leak). As these materials expand and contract with the absorption and drying of water, they may permanently take a new shape. We can help to return most home materials back to their original shape and size without any replacements.
Fungal Growth
Leaks can provide the perfect opportunity for mold and other types of fungi to start to grow in your home. Mold can be identified by the presence of strong, musty odors; but you can usually assume that a longstanding leak has supported mold growth somewhere. SERVPRO technicians can help to control and remove any past or present mold infestations in your home that may have been caused by a leak.
SERVPRO of South Shreveport can help you handle large and small water damage problems in your home on a 24/7 basis. Just give us a call at (318) 865-4655.
Click here for more information about the city of Shreveport.